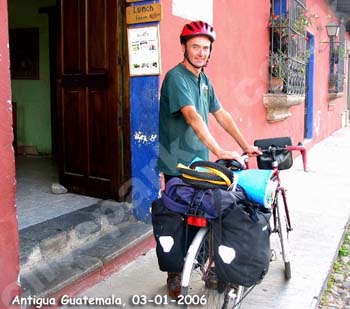 I've cycled since I can remember. My father's family were descended from marauding Scots who came down first to Guisborough then Ripon. My mother's family hail from the fishing town of Lowestoft, Suffolk - the most easterly town in Britain. I spent most of my younger years in Harrogate, Yorkshire and moved to Glasgow 25 years ago, a city I now regard as home.
I'm neither a racing cyclist nor a mountain biker. I simply see a bike as a means to an end – if I want to get somewhere I'll try to use the bike if I can. For years I've commuted to work in Glasgow by bike, indifferent to the rain. My yearning for travel started when I was four and went for a family holiday at Ardrossan in Ayrshire. The South Beach station was at the end of the road and I'd spend hours at the level crossing gates watching the trains go by. I wanted to go on them and find out where they went.
As soon as I was old enough to travel alone – about 13 – I'd go off cycling with friends and stayed in youth hostels. I discovered every nook and cranny of Yorkshire and East Anglia this way.
A few years later, a friend and I took our bikes on the ferry from Plymouth to Santander and discovered the quiet back roads of northern Spain, in an era when few ventured beyond Benidorm. It sealed Spain as a favourite cycling destination for me, and it was a logical extension of this to want to explore the old Spanish empire. I cycled in Mexico, Cuba and Chile before taking the plunge and quitting my job so I could cycle right the way through Mexico and Central America. This journey is chronicled in my book "Pedalling to Panama", which also delves into the history of these countries and recent political events such as the civil wars in El Salvador and Nicaragua.
I was inspired by the late Anne Mustoe's book "A Bike Ride". Anne packed in her job at the age of 54 to cycle alone around the world, having never cycled anywhere before. On her first day she had to push her bike over London Bridge. A year later she cycled over the Rockies almost as if they weren't there. Her writing makes long distance cycling seem such a natural way of seeing places and meeting people. Sadly Anne took ill whilst cycling in Syria in November 2009, and died shortly afterwards. Her inspiration will be missed by the world of independent travellers, and I would like to pay tribute to the personal encouragement she gave me.
A lot of people drive a car and say they have no idea what is under the bonnet. I am the same with my bike. I can mend a puncture, change a brake block, but anything else is beyond me. That's never stopped me travelling as my view on life is that there's no such thing as a Problem, only a Solution. Life's simply a question of finding the right solution when you need one.
Central America made a lasting impression on me. In 2012 I returned to Nicaragua and cycled over 1,000 kms around Lake Nicaragua, taking advantage of the brand new road that's just been constructed between Juigalpa and San Carlos on the Rio San Juan. On this trip I was able to re-visit some places that made Pedalling to Panama so enjoyable, including Granada, Isla de Ometepe, and of course the lovely Hospedaje Lidia in Rivas. I'm now blushing slightly at having spelt Ometepe incorrectly in my book!